Description
THE ASSASSIN MOSQUITO TRAP 240v 
Medium to large outdoor entertaining areas, gardens or even cattle sheds etc
Specifications:
Power Consumption: 48W
UV Tube: MT0011 (6W large UV tube) Cord Length: 2.2m
Power Supply: 240V
Unit Weight: 3.65kgs UnitSize:31cmWx50cmHx31cmD
Coverage: 400m2

This unit is BIG - a lot bigger than the Terminator. It has a very large catch basket. See size comparison photo!

--------------------------  
Mosquitos (Mozzies) are more than a nuisance, the bites sting or itch and they can spread disease. Many a great night or BBQ has been spoilt by mozzie bites or the constant buzzing as you try to sleep!
Well we have a few solutions. We have scoured the planet for good solutions and now have a complete range. We have avoided the zappers - they are noisey, unreliable, hard to clean & smell terrible. But these traps use a very quiet and energy efficient fan to suck the insects in and trap them. 
The range of JAK Max Insect traps offer the perfect solution no matter what the size of the problem. Effectively controlling mosquitoes, midges, flies and other flying insects over areas from 40m2 to a whopping 1000m2 and with models available in 12V, 240V and NEW Photocell Technology (Automatically turns on at Dusk) the JAK Max range has you covered whether it be for indoors, around the pool/patio, camping or even cattle sheds


JAK Max traps work using a combination of Shape, UV Light, Heat, CO2 and Airflow to lure and trap mosquitoes & insects.
Shape: The Eradicator trap is shaped to attract insects from a specific area rather than from all around you so you can eliminate insects from your immediate area. Other traps are designed to fight insects in all directions.
UVLight: AllJAKMaxtrapsusespecialisedlonglifeUVTubestoproduceanirresistible light source.
(Please Note these are specialty tubes and must be replaced with JAK Max tubes for best results.)
Heat: All JAK Max traps use large heating surfaces that ensure traps are warmed to simulate the temperature of the human skin.
CO2: All JAK Max traps use revolutionary Titanium Dioxide (TiO2) coated surfaces that react with UV Rays to produce Carbon Dioxide (CO2) to mimic the release of human breath. The Female Mosquito is the one which bites and she is attracted to CO2 from our breath. Traps that do not use CO2 are severely lacking! See www.bonzabuy.com.au  for more. 
Airflow: All JAK Max traps have powerful vacuum fans combined with optimal airflow design to draw insects into no mess collection chambers where they rapidly dehydrate and die.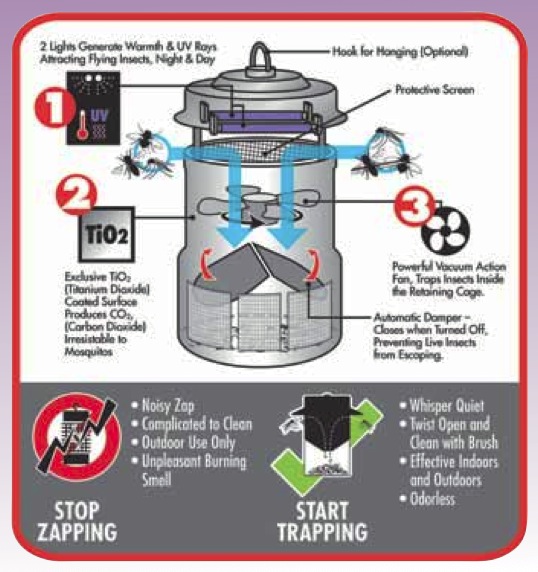 FEATURES: 

High Quality Build and Design

Long Lasting Bulbs

BonzaBuy.com exclusive - 12 month warranty (unit must be cleaned according to directions or warranty void)

Quiet operation ñ No annoying zapping
Odourless
Environmentally Friendly ñ No Pollutants

Insecticide and Pesticide free ñ No messy sprays

Safe for humans and pets

Models for both Indoor and Outdoor use

g

No assembly required

Easy to use ñ simply switch on
Low operating costs
Easy to clean and maintain

Best available advanced materials used throughout construction 

Attracts Insects day or night due to CO2 release
Photocatalyst reaction helps purify and sterilise air

Continuous use can dramatically reduce insect numbers in your area

Keeps families safe from diseases such as Denghi and Ross River etc

Long life UV tubes

Provision for additional attractants eg. Octenol (although not required)
Reviews (0)