Your Backyard - Chefs D-Light!


Want to cook some amazing food in your backyard?
Care about the environment?
Like healthy food?
Want to save money?
Want tender, juicy food - everytime?
Want to try the benefits of Solar with minimal expense?

Well - we have the perfect product for you! It does all of the above. What is it? a Solar Cooker! Not just any Solar Cooker - this is the worlds best - the Global Sun Oven....

It really makes cooking gourmet food very easy - people will be astounded by the results! Solar Cooking is Easy, Fast and FREE!

Some Benefits of Solar Cooking:

Food is Better For You (vital nutrition is not lost)

Food Tastes Better (cooks in own juices)

Saves Time (you can leave unattended & go out or do other things)

Easier for Gourmet Results (food doesn't burn easily & even great if over cooked!)

Reduces Carbon Emissions

It's FREE (no power bills)

No FIre Risk

Safe (no radiation from microwaves etc!)

Portable (great for the beach / caravan!)

Adaptable (ie bakes bread or drys fruit!)

We have found all of these benefits are GREAT - when Solar Cooking with a Global Sun Oven. You may have less success with other cookers due to a number of factors.
We have prepared a quick overview for you in the form of a leaflet in the page 'Sun Oven Leaflet'

Solar Cooking has a few pit falls - which is why the designer invented the Global Sun Oven. The goal was to over come these problems for 3rd world use. Solar Cooking is so easy & consistent in the Sun Oven we LOVE IT!

And YES - we use 2 Sun Ovens at home on a regular basis as part of our normal cooking routines. Our young children love to help out here's a photos of two of them :)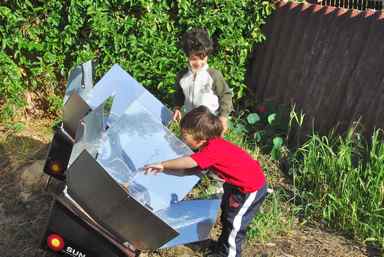 A main goal of ours is to help you connect with Jesus Christ (the One who Created the Sun, Wind and You!) but don't let that stop you getting a bargain!
-We would also like to help you do the right thing for the planet...and save you money!